Kindergarten and nursery Domeček Prague 5 Smíchov offers free places to enroll in kindergartens and nurseries.
Dear Parents,
Selection and subsequent enrollment in kindergarten is a big milestone in the life of a child and parents as well. No need to be afraid of it. When choosing the right kindergarten, you pay attention to the following criteria:
Place (near residence or workplace)
Educational program
Personnel approach and references
Price and opening hours of the kindergarten
Additional activities (theaters, trips, circles)
And since you have probably already done this and you are in the phase when you want to enroll in kindergarten, we have this step easier and faster for you. Use the Electronic Pre-Registration, which you will make here at this link https://elektronickypredzapis.cz/materska-skola/skolicka-domecek . After clicking on this link, you will get directly to the information page of the pre-registration, where the program will guide you in a simple way, what further steps need to be taken (printing the completed application, doctor's visit) and deliver everything necessary to the kindergarten in the specified manner.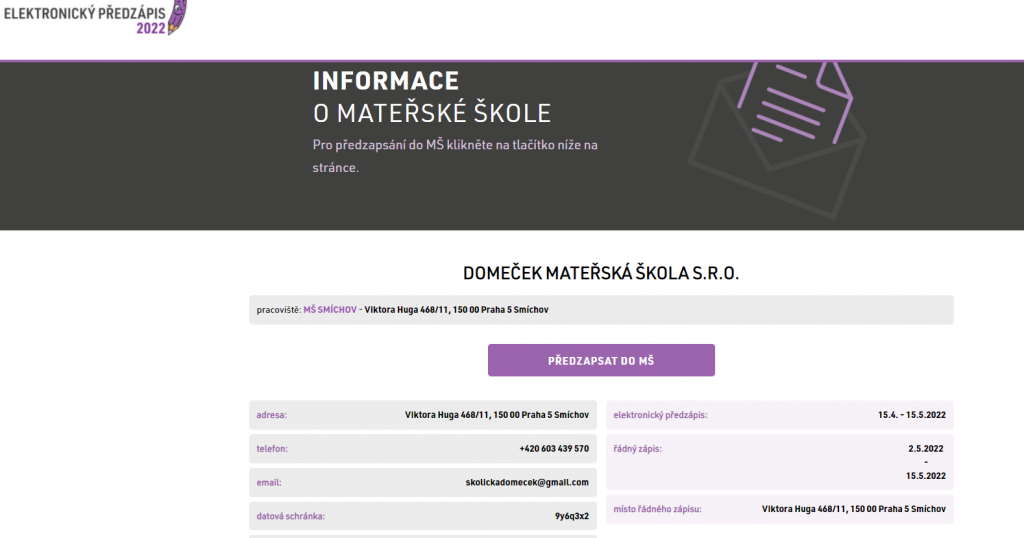 Link to the price list here and to the inquiry form here
If you are interested, contact us here or directly at 603439570.